"The interesting thing about this sustainable ag, is that you really attract 'tree huggers' who want to do good for the planet. However, they're not necessarily the "ruthless marketing and sales sharks" that are somewhat needed in order to capture and fulfill the sales capacity. In the Philippines and probably elsewhere, those people are drawn to different and bigger industries instead of urban agriculture, such as property development or FMCG," says Ralph Becker, founder and CEO of Urban Greens, a vertical farm based in Manila, Philippines.
It's not all roses…
As the company has experienced, the local banks aren't really supportive of bank loans. Ralph explained that it's been really hard communicating their prospects. In comparison to the interest rates in the EU that are relatively low, in the Philippines entrepreneurs are left with a 40% interest rate.
Ralph explains that in order to get a loan, you need collateral which is very non-conducive. Banks will look at past sales and will determine your creditworthiness based on past performance. The fact that last year the country was in lockdown and Covid obviously didn't help since the farm wasn't up and running, hence not much revenue.
Ralph Becker
"Us wanting to borrow from banks in order to set up more grow units, to make more money and to ultimately pay back a potential loan, doesn't seem to compute. Luckily, I am getting support from people abroad. However, since urban farming is not a big thing here yet, it's very hard to attract investors as most are looking for a quick return. Unfortunately, many have short-term thinking so the long-term benefits are overlooked," Ralph affirms. 
Since Urban Greens does receive some seed funding from abroad, many would criticize that it's foreign-funded, however, that's an ongoing conversation for Ralph. There's no lack of money in the local Filipino market, but comparatively little has found it's way into the vertical farming industry yet, he explains. Rather in the classic industries like property and franchising.
Urban Greens' 700m2 indoor warehouse farm has the capacity for more than 45 grow units which have 6 grow levels. With this capacity, the farm should be able to grow about 40.000  plants per month. According to Ralph, it makes good financial sense, even with the comparatively high Operational Expenses making it seem a bit counterintuitive, to grow crops in the middle of the city.
"The revenue potential is four times the maximum monthly OPEX cost. Everything is going to be highly profitable once it's all fully set up and operational. In order to break even, we need about 24 grow units up and running. Anything on top of that would be contributing to profit. Meanwhile, as we don't have those 24 units operational yet which would help us break even, we're digging a monthly hole into our cash flow that's fed through revenue as well as an outside investment through the seed funding round," says Ralph.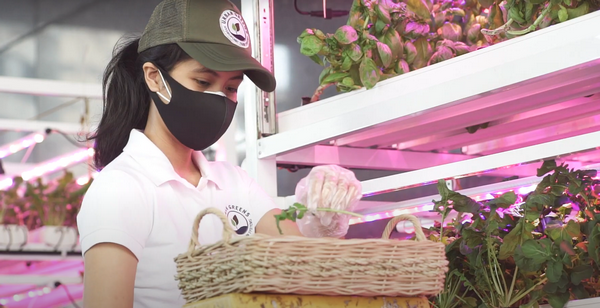 Market hurdles
Last January, Urban Greens moved into their warehouse and turned it into a farm production space One year in, the company has definitely come further than last year, despite the many lockdowns and limitations. As of Mid February 15 grow units, making up one-third of the total space capacity are up and running, the rest of the space still idle and waiting for USD200K funding to maximize its full potential.
"We've not closed our funding rounds yet as we're supposed to. It's one of these things, since vertical farming is CapEx heavy, you need to invest quite a bit upfront for equipment With the 15 operational we are not in a position to cover all our costs yet but we're keeping ourselves over water even though it's always pretty tight.
Frankly, it's a no-brainer, with the farm fully operational we would be able to grow 3.5 metric tons per month and the revenue potential eclipses the operational costs," says Ralph. 
The potential that Urban Greens has is really big, as Ralph likes to put it. The company has recently signed an agreement with the Philippine Department of Agriculture in order to set up a fully-funded vertical indoor farm which will be a showcase for further municipalities and regions to adopt the Urban Greens designed system and business model in and around the country's calamity prone regions. Urban Greens is currently investigating how to combine indoor farming with various other climate-resilient technologies.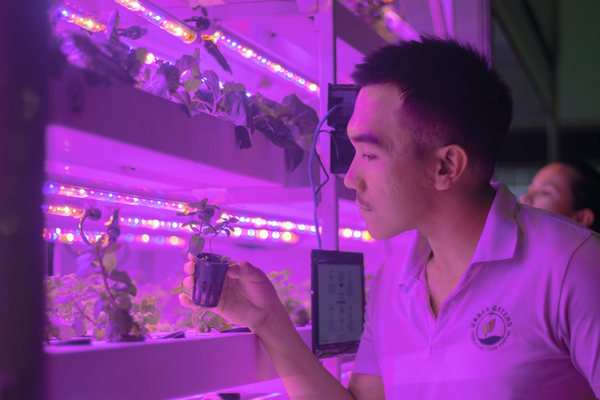 Ralph expects that the government project will give Urban Greens credibility and visibility to promote vertical farming to more people.
Although the company is definitely going in the right direction, at this point, it's sometimes exhausting to be a founder and entrepreneur, Ralph admits. "However, we keep the enthusiasm going. The team is so great. We manage to grow but on the marketing and sales side, we still have a lot of work to do and take the opportunities to grow. I'm applying my experience as a marathon runner to my business," says Ralph, "I have a clear goal and vision in mind, and I am sure I can beat anyone on stamina"
Pop up dining
During the lockdown, the team got creative and started a pop-up dining. Since most restaurants were closed, the team started making their own pesto sauces, among others. Once that became a thing, friends and family were invited over to try them out and have a glimpse at the farm. Not too long after that, people suggested turning it into a new opportunity, a restaurant.
The team that comprised 10 people saw their chance and took turns to make pasta and sauces. Later, a chef was hired that could cook for them to make meals. The premise was really from farm to table. Visitors were able to take ingredients from the farm, according to the respected hygiene rules, what would be used for their lunch and dinner.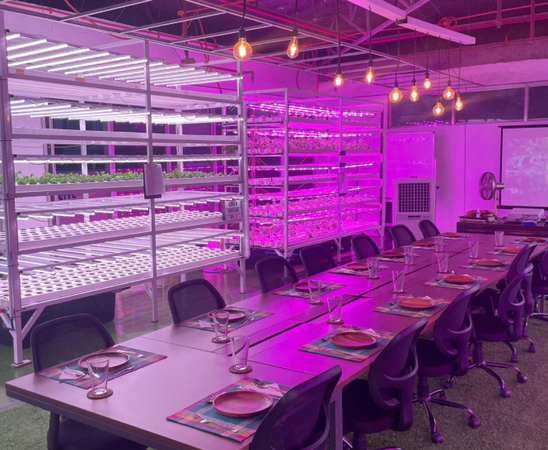 The table setting
"It became such a hype that we created a 4-course plant-based menu made by our chef, combined with drinks and cocktails. All meals and cocktails have components of what we grow at the farm. Every Saturday, we have pop-up dinners where people are seated together at a long table. It's a really great experience as you get to meet other people, harvest produce and create your own meal."
According to Ralph, it's a great way to have people come and visit the farm since that's not very common. As well as the plant-based meals since the Philippine culture is very meat-centered. Urban Greens sees the new pop us as a great alternative to promote a vegetarian focused diet, which can be as fulfilling as meat.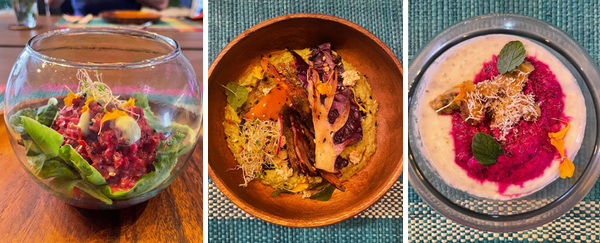 Some of the meals that can be eaten at the diner 
Alternative side streams
Besides the restaurant, the company does food delivery for its customers that ordered produce online. They've even managed to host events such as Yoga classes in their idle warehouse space. 
"We've had requests coming in to have yoga classes in front of the farm, because of the really cool looking environment. There's a lot of space available, so we're looking into these options, of course, all within the current safety limitations," Ralph notes.  
Fresh pestos, kale hummus and tea are on the menu. In the future, basil oil might be added as Urban Greens doesn't lack to find new ways to get revenue streams in. "Marketing and sales is something that we will be focusing our attention on now. Prior to this, we had to make sure that the produce was of superior quality otherwise our marketing and sales efforts would be short lived. Luckily, we kept ourselves afloat with the alternative activities and products," Ralph adds.
Open to internships
International travel for tourists is opening up again and offers internship placements. Urban Greens is open for interns and anyone that is interested in a short-term stay, experimenting in agriculture.
"It's super interesting to work in agriculture and to expand your horizon and skillset. Since this market has so many potential and opportunities, we, therefore, want to make this publicly available."

For more information:
Ralph Becker, CEO
ralph@eaturbangreens.com 
Urban Greens
www.eaturbangreens.com