Since its inception, vertical farming has pushed the limits of cultivation. The possibility of growing without soil or increasing the number of plants per unit area, and the ability to produce fresh and healthy food in any environment (urban, rural, indoor, outdoor and even in your own home) have made vertical farming systems, such as those developed by the Almeria-based company Agrointec, an interesting option for more and more agricultural producers.
"Our Agrointec SAV technology is an aeroponic vertical growing system consisting of Growpipes vertical growing units, a system patented by an Agrointec partner company of Swedish origin together with other technologies, such as the structure, the fertigation system, supplementary lighting, etc. In all the studies and trials that we are carrying out with different crops and under different growing conditions, we have found that the performance of the design is surprising. Plant growth and entry into production happen very quickly when compared to traditional production. In many cases, the supplementary light factor plays a very important role," says Miguel Angel Ruiz.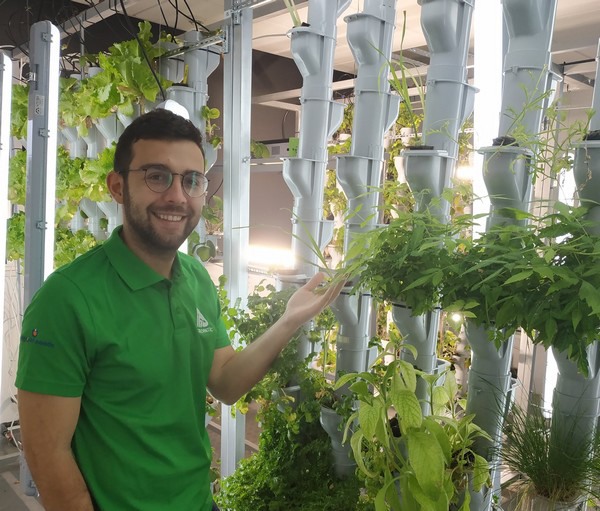 Miguel Ángel Ruiz.
"Our SAV system allows rapid and vigorous growth of a multitude of species, from leafy varieties to strawberries. In all our trials, we have observed a rapid adaptation and development of the production without the use of pesticides, allowing for sustainable cultivation, and with significant water savings (around 70%-80%). But, undoubtedly, the most outstanding feature is the simplicity of the structural system and its cultivation units, resistant and easy to fit together, like Lego bricks. This allows us to design solutions that can be adapted to current wintering structures without the need for producers to make any additional investments."
"Agrointec SAV, of course, is not here to replace the traditional cultivation system, since, obviously, it is not adaptable to species of indeterminate growth, such as solanaceae or cucurbits," says Miguel Ángel. "It is a very interesting alternative for small-sized crops, such as strawberries, aromatic herbs, leafy species, etc., which allow perfect control of irrigation, nutrition and lighting."
"Agrointec, as an R&D consultant, is working every day to optimize  the design in all areas, especially in terms of costs, to allow this system to be implemented everywhere, from large producers (in greenhouses, warehouses or buildings) to small individuals wishing to enjoy fresh strawberries or live lettuce, and everything in between, including high-class restaurants."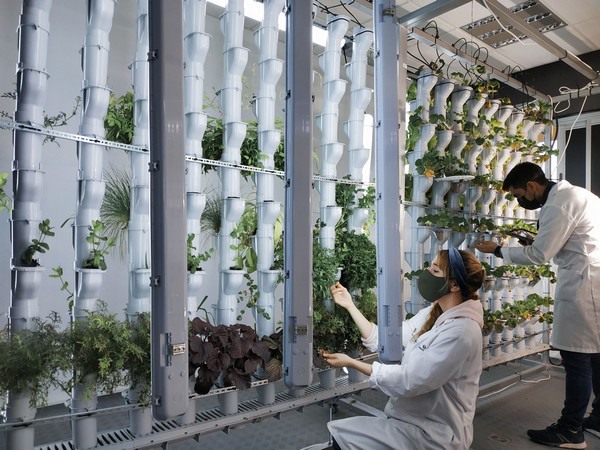 "Another very interesting aspect is the use of our SAV system by companies and R&D centers since it makes it possible to have 30 times more plants in a greenhouse or research plot to test the behavior under certain circumstances (application of biostimulants, biotic stresses, such as pathogens, or abiotic stresses, such as drought or salinity), in a highly controlled and efficient way."
And the fact is that, along with water savings, planting density is one of the main differentiating factors of the system developed by Agrointec, an agri-food consultancy firm that is part of the biotech business project Beyond Seeds Group, and which is under the umbrella of the Cellbitec Foundation, created with the desire to promote scientific research in the fight against cancer and rare neurodegenerative diseases.
"Agrointec SAV makes it possible to have planting densities in excess of 30 plants per square meter. In the specific case of strawberries, we are talking about a density 5 times higher than the traditional one. And this is achieved while avoiding the use of any type of soil."
"In terms of height, the system's modularity makes it possible to implement installations of up to 6 meters, although we are currently working with heights of between 2 and 4 meters. For the case of outdoor installations in greenhouses, the limitations are obviously determined by the height of the winterized structure and the shading produced by the structure itself and the vertical farming system."
"This factor has led us to consider the need to incorporate supplementary lighting for certain narrower cultivation frames for outdoor installation in greenhouses. But that additional lighting would be mainly for the lower layers of the system. In the case of indoor installation, the use of supplementary lighting is essential. At the moment, we are already working with efficient, cost-effective solutions that are easy to use and configure, although we are researching other options to adapt to the needs of our customers at the most competitive price possible."
"Vertical farming is not a fad. It is already a reality today. In the European market, there are already a number of large companies developing solutions for local agriculture in large cities. Globally, in Asia and North America, the commitment to this production model is clear, although not all solutions are efficient, profitable and easy to implement. This is what makes Agrointec SAV highly competitive," says Miguel Ángel Ruiz. "Our commitment to this technology allows producers to develop a sustainable, productive, efficient and profitable solution, allowing them to offer local products with a zero water and carbon footprint."
"Our main market is Spain and Portugal, although we are working in other markets, such as Central and South America. The main crops, as we have said before, are those that, due to their size and root system, can be grown in our cultivation units; that is, aromatic plants; leafy plants, such as lettuce; brassicas, or berries, such as strawberries. We are already working with various multinationals in these sectors to facilitate the implementation of Agrointec SAV as a production alternative."

For more information:
Agrointec
Sede Científica PITA. Campus de la UAL
Almería (España)
Tel.: +34 950 214 548
info@agrointec.com
www.agrointec.com