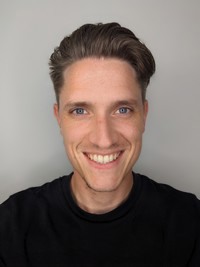 "We got started even before we went live," says Vincent Jalink of NL Research. "Many companies would rather start sooner than later, of course. That's why the demand for research facilities is enormous."
That was enough of a reason for a group of companies to put their heads together and establish NL Research. The company offers climate chambers for research, with all the equipment necessary to make things work with as little human influence as possible. "What we do is unique. Much conventional research is still being conducted in horticulture, with a great deal of influence from people making subjective judgments. We focus on figures, and make their visual representation clear."
Cameras
Vincent, the director of NL Research, is already active in horticulture with Phenovation. This company develops camera systems that objectively measure plant physiological parameters in plants. "We have recently received a lot of questions from people who want to test our cameras and did not want to buy or rent them directly. By offering them a research facility with NL Research, they don't have to adapt their own business processes to the cameras directly. As a result, we are now the springboard for people who want to start working with our high-tech cameras."
Yet the group that NL Research is targeting is much broader. "There are currently very few research facilities where you can start quickly and that also allows for speedy scalable research. This is possible with climate cabinets. Currently, many companies researching biostimulants are already using our facilities. There, cameras assess their product, not in terms of 'with product X the plant is slightly greener' but rather in terms of 'with product X the chlorophyll content increases by so much'.
Now it is also possible to express the chlorophyll content in a figure, for example, but this requires destructive research. "By following a crop 24/7 with our cameras, from seed to one-meter high plant, we can non-destructively also follow the chlorophyll build-up."
Capacity shortage in the market
As mentioned, NL Research has only just started. It has yet to even get registered at the Chamber of Commerce, which will take place on April 1st. The website has been live since March 1st. "We are still a start-up, but as of next year, we want to offer our clients the opportunity to start their research within two weeks. This is possible here at our location in Wageningen, where we are also close to University students, meaning that we also have no lack of plant scientists."
NL Research combines technology and biology. The shareholders include an LED consultancy, a biostimulant producer, a bureau that models crop growth, and a producer of climate cabinets. "All four were actually looking for a facility to do tests. The lack of capacity in the market then pushed us to set up a facility like this ourselves."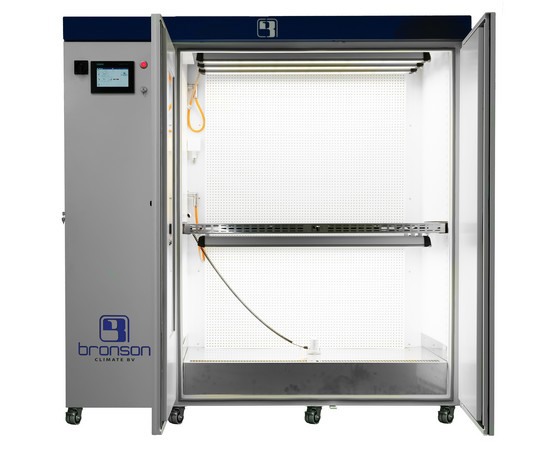 Scaling up tests can easily be done with several cabinets at a time. According to Vincent, sometimes the use of several cabinets instead of one larger climate chamber is more reliable due to the precise climate control.
Practical
"The advantage of the cabinets we use is that they can simulate extreme climate conditions," Vincent continues. "From minus 5 degrees Celsius to 40 degrees and up to 1500 micromoles of light."
Vincent knows of cabinets in practice that struggle with this. "When you turn on the lights in a greenhouse, you don't want the temperature to fluctuate wildly because of radiant heat. The cabinet we use has a good PID control with a very low margin between the set temperature and the measured temperature of no more than 0.1 degrees Celsius. The humidity also fluctuates minimally, with a percentage of 1-2% at most."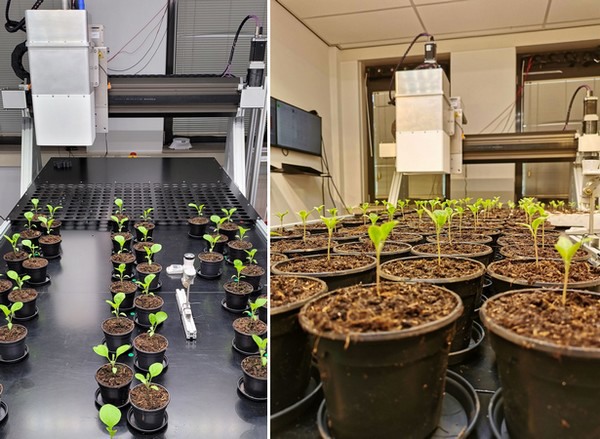 NL Research uses advanced systems that are currently only found at universities, such as XYZ systems. With these, a camera system automatically moves over the crop for very accurate phenotyping. Pictured with aubergine plants.
Own trials
Apart from trials at the request of customers, NL Research will soon be starting its own trials with aubergines. The crop will be tested for salt stress. "With this trial, we are going to show what we can do with our facility. We will also show how we generate reports and how we deliver them. We can do this much faster than what's in the market today. We achieve that through the use of cameras and because we automate many repetitive research processes."
Customers can follow the data live. "We update the climate data every hour, and the camera data every two days. In this way, all the interim results can be followed. For example, in our trial with aubergine, we can see which genotypes have high salt stress and which do not. Our aim is to deliver reports within one month of the end of the trial."
Vincent points out that the information on reports is easily accessible. "Often, the conclusion after an investigation is that even more research is needed. We don't want that. In addition to the figures, we also give a short, clear text with the conclusion of the test.
Anyone who wants to conduct their own research using the climate chambers can also contact NL Research. "In that case, we will be happy to support growers. We are open to sharing knowledge and are happy to teach growers how to conduct research in the right way and draw the right conclusions. Purchasing a test unit only is not enough, of course. There are many things that are crucial to consider. For instance, think of exposure tests: if there is more stretching under one color of the lamp than another, is that because of the spectrum? Or by the variation in radiation heat? It can be both, and it's absolutely essential to assess that. After all, doing research is a profession in itself."
For more information:
Vincent Jalink 


NL Research
+31 (0) 651978796 
www.nlresearch.nl