"There are optimal operating conditions that are beneficial to both fish and plants. By achieving balance in the system, we can further optimize production in an aquaponic system," says Rheece de Veyra, founder of Green City Aquaponics in London, Ontario.
Green City Aquaponics is a small-scale aquaponic and microgreen farm capable of growing up to 800 plants at a time on a footprint of 200 square feet. The aquaponic system holds roughly 6,200 L of water, 2,400 L for aquaculture and 3,800 L for hydroponics. The system produces approximately 15-20 lbs of microgreens per week. As Rheece explains, Green City Hydroponics produces microgreens on 115 square feet of the total footprint but is looking to expand to 260 square feet and use taller growing racks, which would allow the farm to increase its microgreen production nearly fourfold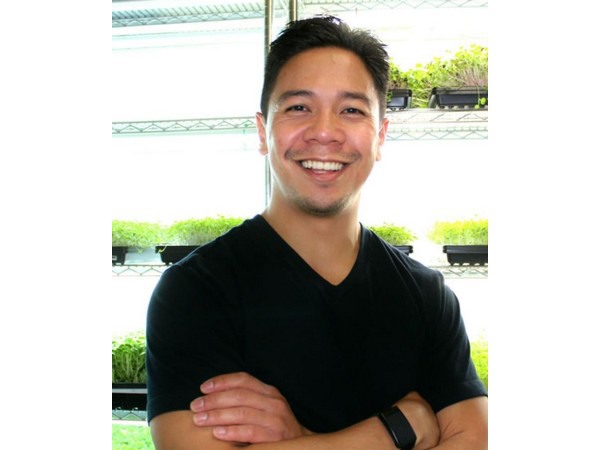 Rheece de Veyra
Rheece grew up in the Philippines and moved to London, Ontario with his family in 2004. Having grown up in the Philippines, Rheece had previously experimented with growing various types of plants in the family garden and had multiple aquariums. When he learned about aquaponics in 2014 and dove into the research,  he immediately fell in love with the concept and began looking into aquaponics as a business. So far, London has proven to be a good test market for aquaponics and vertical urban farming. 
"London, Ontario is a medium-sized city with a diverse population that is supportive of local agriculture programs, such as the city's Urban Agriculture Strategy and the Western Fair Association. The latter is an agricultural society that promotes awareness and improvements in the agricultural community," explains Rheece.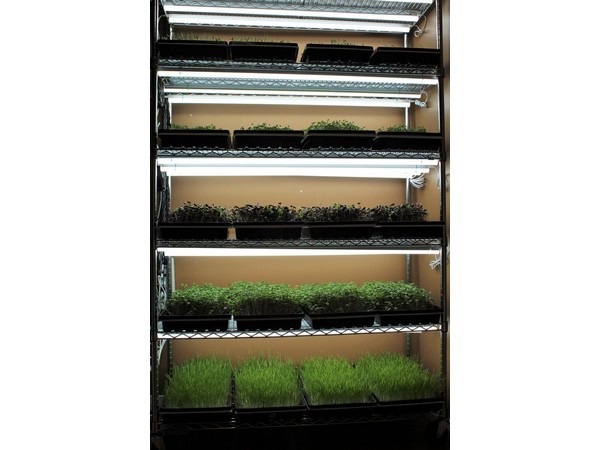 Why aquaponics
Describing the benefits of aquaponics, Rheece explains that aquaponics uses roughly 10% of the water needed in soil-based production system due to the improved nutrient delivery and reduced water loss through evaporation. Moreover, the ecosystem created when combining aquaculture and hydroponics fosters the growth of beneficial bacteria which enhances the delivery of additional nutritional components to plants, such as amino acids. And as it is critical to maintain the ecosystem, insecticides and pesticides are avoided at all costs, producing chemical-free fish and microgreens.
Aquaponic systems can be modular thus designed to fit any space and to grow into spaces over time, reducing the need to install large-scale, capital-intensive systems right from the start. Also, these systems can be installed in unused buildings and generate revenue in otherwise unproductive space. 
Bringing balanced plant nutrition through edible and ornamental fish
On the aquaculture side, Green City Aquaponics is raising a combination of edible and ornamental fish species, namely tilapia, koi and goldish. According to Rheece, tilapia produces high levels of phosphorus while koi and goldfish produce an abundance of nitrogen. The combination of the three species thus provides a balanced nutrient profile for the microgreens, which receive water from the fish tanks. 
As the aquaponic system is located outdoors, the cool Canadian weather makes it challenging to control the environmental conditions in the water at a low cost. This makes it difficult to raise certain fish species, let alone do so year-round. For the time being, the farm is mostly focused on producing microgreens such as alfalfa, clover, brassicas, buckwheat, pea, sunflower and corn. 
"With the aquaponic system, we are starting to increase our production of leafy greens but are currently producing in our microgreens space until spring comes," says Rheece. "When spring arrives, we will start producing more leafy greens outside in our aquaponic system."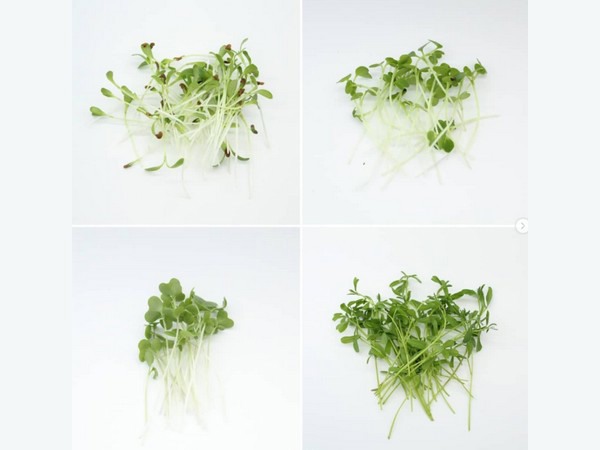 Awareness of aquaponics in Ontario
Green City Aquaponics is working diligently to spread awareness about aquaponics through social media and conversations with community members. In the next 3-5 years, Rheece hopes to install a commercial aquaponic farm and provide tours to the community, with an emphasis on schools. Further, Rheece hopes to implement the aquaponic model used by the Mississauga Food Bank, which gives the aquaponically produced food back to the community. Green City Aquaponics is already sharing produce with the London Food Bank.
"I believe that we must satisfy our basic needs and if I can help alleviate the stress related to meeting these needs, then we can all put our mental efforts towards other stressors. Also, I believe that the shelf life and nutritional quality of our microgreens and shoots can help support the quality of life of those served by the London Food Bank," says Rheece.
Green City Aquaponics is looking to expand its team and hire 1-2 employees in 2022. Rheece also hopes to provide co-op opportunities to those who want to explore the world of urban farming. 
For more i

nformation:
Rheece de Veyra, Founder
rdeveyra@greencityaquaponics.ca 
Green City Aquaponics 
www.greencityaquaponics.ca