In 2015, Lucy Chimombo of Lilongwe, Malawi, East Africa, turned a hobby of growing oyster mushrooms in her backyard into a small business.
It was not long before large food distributors, supermarkets, restaurants, and hotels came calling for her oyster mushrooms. These retailers also inquired about Agaricus bisporus (white button) mushrooms, a consumer favorite. However, Chimombo was untrained in growing that type of mushroom and could not accommodate this request.
After several years of trying to meet demand while facing infrastructure and production challenges, she sought help from the Malawi office of Cultivating New Frontiers in Agriculture. The Washington, D.C.-based nonprofit supports economic growth and improves rural livelihoods by empowering the private sector. She met with Mwayi Sinda, program coordinator of the Farmer-to-Farmer Program funded by the U.S. Agency for International Development.
After learning of Chimombo's challenges, Sinda contacted the Mushroom Research Center in Penn State's College of Agricultural Sciences.
Challenges during the pandemic
As a mushroom scientist and manager at the center, John Pecchia often shares his expertise in mushroom cultivation and disease management with industry professionals, mainly in Pennsylvania, the U.S. and Canada. The request from Cultivating New Frontiers in Agriculture presented challenges, the most significant being travel restrictions due to COVID-19. Nonetheless, Pecchia responded to the call.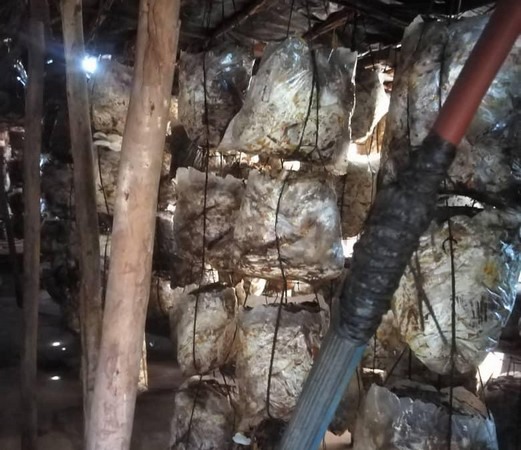 Penn State's Mushroom Research Center helped a mushroom grower in East Africa overcome the infrastructure and production challenges shown in this image. Credit: Cultivating New Frontiers in Agriculture. 
"It is very challenging to assess growing rooms, troubleshoot and help somebody remotely," said Pecchia, associate research professor in the Department of Plant Pathology and Environmental Microbiology. "However, having the opportunity to positively impact growers, especially in developing countries that don't have extension resources, is important."
Pecchia had Zoom meetings with Chimombo, during which he viewed her current setup and discussed composting, substrate preparation, contamination control and management of growing room conditions for mushrooms. He also advised her on contamination, which is a significant challenge in mushroom cultivation and reduces the production of high-quality mushrooms.
Chimombo implemented Pecchia's recommendations, which resulted in improved productivity and income. In June, she will begin producing button mushrooms using the knowledge she gained from Pecchia. She said she will have a competitive advantage because few smallholder farmers in her region grow button mushrooms.
Intensive local production
"Most of the big shops and hotels import mushrooms from South Africa and Zambia, hence the need for intensive production locally," she said. "For my business to meet consumer demand, I needed help to overcome low production and poorly operating infrastructure. John has helped me so much, and I am grateful for the education."
Chimombo will build on her success with the help of a $40,000 grant from the United Nations Development Programme. The funds are enabling her to build more mushroom houses. Cultivating New Frontiers in Agriculture will continue to provide her with training after the buildings are operational. Pecchia said he would be on standby should they need further help.
"Penn State is a recognized leader in mushroom science, so growers nationally and internationally look to us to develop the best practices in mushroom production and help solve problems," Pecchia said. "It's imperative that we share our knowledge with growers everywhere to elevate their businesses and the mushroom industry."
For more information:

PennState University
www.news.psu.edu