"Currently, food is generally imported. For example, 70% of food in Sweden is imported, and 40% of leafy greens are wasted. They are distributed via supermarket supply chains causing emissions and the "last mile" problem. All products are packaged for transportation and purchase," says Gloria Kraus, CEO of Hollbium, a Swedish agtech company. 
Therefore, Hollbium aspires to bring in nature as part of every indoor environment. It is now introducing the Loop, which can be rented out to businesses. Its urban micro-farms help to enhance a positive mood and tone in the surroundings while producing fresh produce to be eaten as a self-sufficient food.

Gloria Kraus 
Plug and play farming
The product is 60cm by 160cm. With the compact size and sleek design, it can fit anywhere. The installation is fairly simple as the only things needed are a power plug, a wall, and wifi. Then just start growing! The Loop is a modular system that allows for constant repairs and upgrades. The frame is made out of stainless steel and has a lifespan of over 10 years in usage.  
Gloria explains that nearly anything can be grown with the Loop. Such as leafy greens, small vegetables, strawberries, pepper, but also flowers, lavender, and much more. Only organic nutrition is used for the system, enabling the plants to grow healthy and continue growing after harvesting. The loop has a water and nutrition cycle to reduce losses to a minimum. The plants take what they need.  
Hollbium does not count in growth cycles as the plants can grow all year round, twice as fast. The loop is always full of plants of different sizes. You harvest what you eat, and the rest continues growing. This means that, by cutting the leaves out, the plant (e.g., salad) is kept alive, and users can use it over a longer period of time until they have to switch it out. 
The system is made of durable materials and modularity to replace and upgrade parts. Hollbium partners can repair and recycle parts if needed.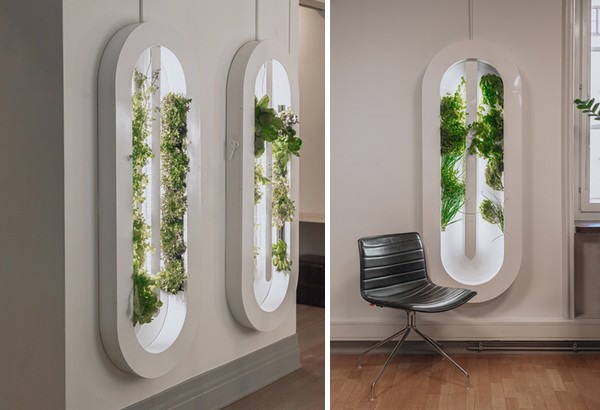 The Loop
Introducing farming to offices
"We see the population is growing while climate change affects agriculture negatively and vice-versa. At the same time, over 60% of the population already lives in urban areas. Food production needs to be decentralized to eliminate negative side effects through changes in packaging, transportation, and waste," Gloria adds.
Hollbium brings vertical micro-farms to offices, communities, and semi-public places to grow fresh leafy greens right where they are consumed. The company believes that sustainable solutions should be aesthetic to be adopted and integrated into our everyday life. Thus, they develop aesthetic and functional solutions that can be integrated into the urban infrastructure and bring distinct benefits. Hollbium wants to integrate nature into the already existing walls.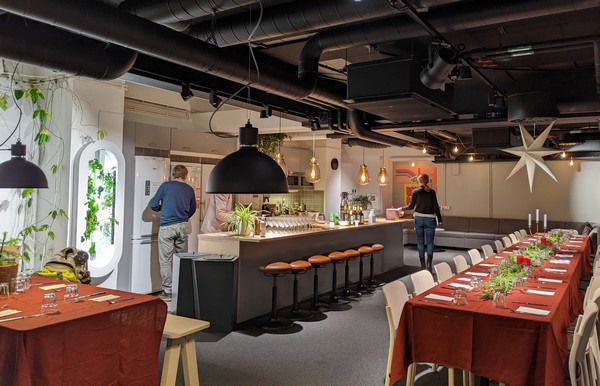 The Loop being used for a Christmas party
Why integrate into walls?
"We want to bring the food production to where it is consumed, for example, in your office lunchroom." Hollbium does not need to hide in the basement but brings additional benefits with its green experience. But there are more benefits than just the edibles. Imagine a grey and dreary Monday morning. You head into the kitchen, where the smell of strawberries or fresh basil awaits you. 
Gloria notes, "Hollbium believes that we need to merge functionality and design to make sustainable technologies attractive to consumers, which we do with the Loop. Industrial farms are our partners as we both have similar visions. We can showcase and educate consumers about the benefits of novel growing technologies and introduce new plants."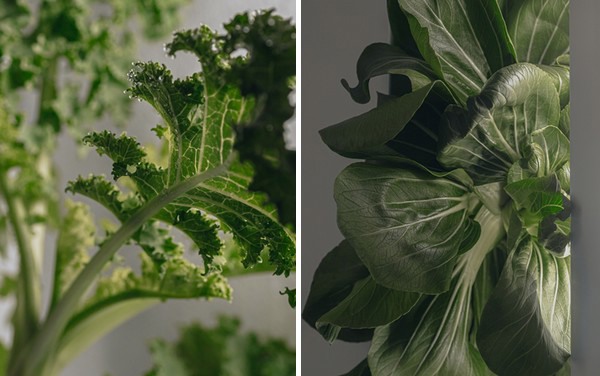 Farm to fork
Hollbium brings the farm to the fork - literally. The company is on a mission to make farming a natural part of any indoor environment by merging functionality and design. 
The company developed a hydroponic system and merged it with a biophilic design - the Loop. The system uses the multi-sensory vitality of taste, scent, touch and looks to increase comfort and wellbeing. Research says it increased well-being by 15% through its biophilic design, adds to the healthy daylight, and boosts innovation and creativity in a given space.
The Loop is a plug-and-play solution that fits on any wall and allows a new decentralization of farming. Hollbium chose a natural shape while keeping enough space for plants. The Hollbium Loop goes well with any indoor/workplace design and is appreciated as a design piece of its own. Plants are put into the spotlight, and the shape can be perceived as a window because of the light.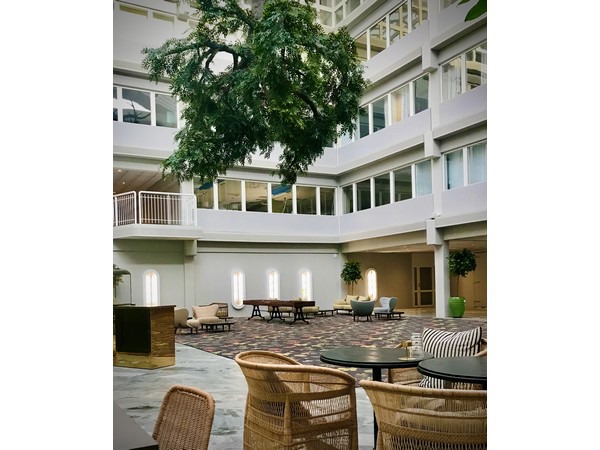 "We see that companies are now redesigning their offices to motivate their employees to come back. The values shifted towards green spaces and quality instead of quantity. The office becomes a social place," says Gloria. 
"How we perceive workspaces started to change with the Covid pandemic, and it will continue to change. We value spaces more by increasing the quality for the people around with sustainable urban development and try to keep our supply chains shorter. We would like to see that people and businesses value locally (or within Europe) grown food and integrate the beauty of nature into their everyday life," she adds. The team is always open to partnerships and new team members who want to look into the possibilities of collaboration. 

For more information:
Gloria Kraus, CEO
gloria@hollbium.com
Hollbium
www.hollbium.com