"As soon as vertically farmed strawberries are on the market for a lower price, it's a no-brainer for the market to shift over to the consumption of vertical farming products. It's just the question of how quickly this industry can scale and how quickly the requisite technologies can be commercialized," says Samuel Bertram, co-founder, and CEO of OnePointOne (OPO), a US-based agtech company.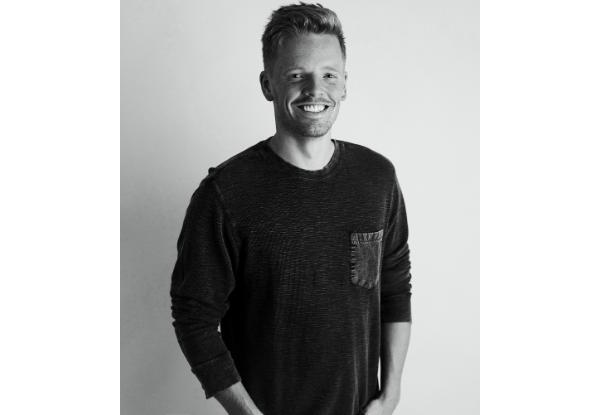 Samuel Bertram
"Today, the value proposition is very much a supply chain value proposition. There's huge inflation going on in food, which isn't good for the lower-income households, but it does offer an entry for high-quality products to enter the market." 
OPO's business model is to sell farms and license software to buyers all along the supply chain. Since there's a high level of automation, remote control farming is around the corner. Part of OPO is Willo, which licenses OPOs technology. At Willo, there's a membership option that allows them to sign up for leafy greens and strawberry delivery once the farms are up and running.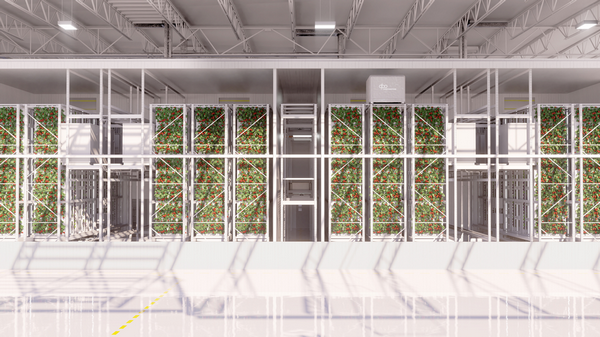 The Opollo™ 3
'Great economics'
"At the end of the day, it's all about unit economics and solving supply chain problems. Once solved, the shift in consumption to a vertically farmed product will be immediate and seamless. Due to the complexity of full automation and system reliability, we see very few vertical farms tackling this problem in its entirety. Automation has always been table stakes—it is required to be a competitive player in the vertical farming industry.  
He identifies a common trend: all hardware innovations begin by tapping into a premium market which provides the capital and traction to solve the problem for the mass market. OPO is aiming its technology at regions where consumers are ready to pay a premium for much higher quality products. The organization is focused on navigating that business landscape in the next three years for the mass market. "Strawberry farming isn't easy, but automation will allow driving significant production savings."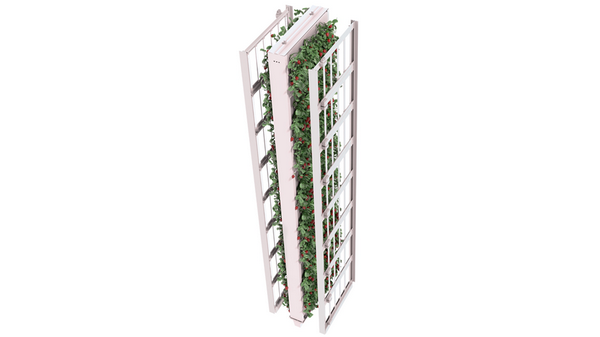 A row of strawberries
The first strawberry farm has been sold to IMEX Organic and will build another 12 farms by the end of 2025. The first of IMEX's farm network will be located in Phoenix, Arizona (US). The 80,000 sqft warehouse has been designed to house numerous farms for various customers. Each farm unit is $2 million and is designed to grow a variety of leafy greens, herbs, microgreens, and berries.
Samuel adds that the strawberry market is perfect for vertical farming. However, they are in the market selling various farms. The Opollo™ 2 farm technology is designed to grow herbs, leafy greens, and microgreens. Opollo™ 3 is specialized in growing various berries. Whereas Opollo™ 4 will be targeting cannabis growing, and the rest will follow. In the farm, two kinds of varieties can be grown simultaneously, 4 in total, allowing growers to be extra flexible and respond to market fluctuations.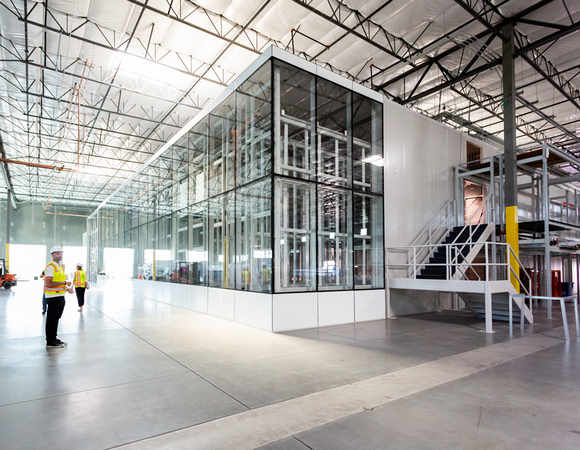 An Opollo™ 3 under construction
Solemn automation
"We're ahead in many areas as we're capable of imaging plants, moving plants, moving lights, etc., with a single platform of fleet robotics. We want this technology to nourish and treat more than 10 million people within 10-15 years. For our team and me, this is a matter of life and death for people that don't have access to food. OPO aims to become the "Intel Inside" of agriculture," Samuel affirms.
"The system is designed to completely eliminate physical human interaction with the plants." The only time somebody would enter the farm is when system anomalies occur—any plant anomalies can be handled by the system itself. Robots reach down into the farm to take photos, pollinate, harvest, and move around the plants. OPO's software platform dictates the farm's actions and monitors the performance of the plants. Enabled by an extensive network of sensors and a mobile network of cameras, data can be accumulated and analyzed in a superhuman manner.

For more information:
Samuel Bertram, co-founder
sam@onepointone.com 
OnePointOne
www.onepointone.com