When local farm stands are chock-full of produce you've never seen before, the thrill of taking something new home is a welcome challenge. So why doesn't this treasure hunt experience always land at the grocery store?
At Bowery, we want to change this. This winter, we're introducing a new product line called Farmer's Selection. As our team of agricultural scientists and product marketers work on uncovering flavor-packed seeds, we want to let you in on the process. Every few months, we'll grow our latest obsession in limited quantities and sell them at select retailers so you, too, can get in on the action!
The green du jour will change every few months, so please don't get too attached to our first-string player, Mustard Frills, a mustard green with a fiery bite, wasabi-like finish, and super frilly texture.
You might be wondering, why is Bowery obsessed with a mustard green right now? Well, this is not just any mustard green. "We knew we wanted to grow something with a strong, distinctive flavor and seasonal relevance," says Julia Cohen, Bowery's Head of Commercial Product and Innovation. Her team put Bowery's Agricultural Scientists to the test, and they went off to source seeds that met the brief for this first venture.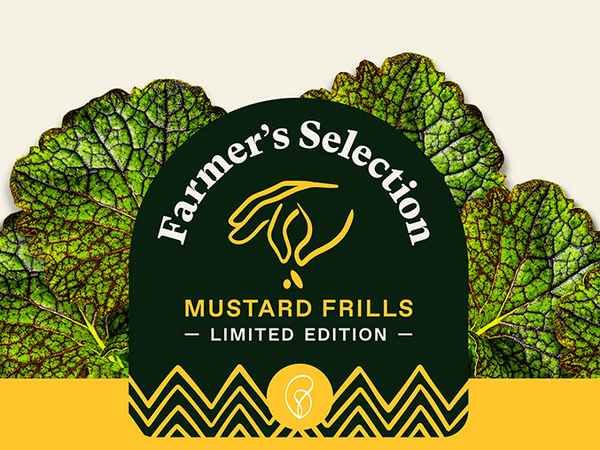 Sensory Testing 
The process for growing a new green can start almost anywhere, but in the case of Mustard Frills, the team was looking initially at color and flavor. We grew dozens of seeds that satisfied the initial brief, but what we were specifically looking for was a nasal pungency for spice (think of the sensation of smelling wasabi), a moderate leaf size, intense color, heightened texture, and a 'burn' for spice. To compare 'burn' spice in lettuces, the Bowery team actually compared the flavor of competing varieties to Wrigley's Red Hot Gum, which served as a 'burn' baseline during testing.
At the end of these tests, Mustard Frills emerged as the team favorite, according to Paul Gauthier, Bowery's Head of AgScience New Product and System Innovations.
"We were looking for a cultivar with interesting colors and interesting flavors," Gauthier says. "We grew cultivars that met these attributes but gravitated towards Mustard Frills; it had beautiful purple and green leaves and a really nice pungent spice."
In thinking about seasonal relevance, Mustard Frills checked all the boxes for a winter release. Its intense notes had our team dreaming up soothing stews and punchy salads. Because of the leaves' sturdier texture, they can not only stand up to residual heat but also provide a bright bite in a winter salad.
Culinary Testing
At Bowery, growing different seeds is only the beginning of our development process. After it satisfied our Product and Ag Science teams' standards, we put Mustard Frills to the ultimate test: real cooks.
The product was seeded to several home cooks, product enthusiasts, and chefs over this past summer. Across the board, our panelists loved the "sharp and spicy flavor" of Mustard Frills and its role as an acute counterpoint to fattier proteins or even as a condiment. Of course, there was some strong feedback at this junction. For many home cooks, some of the greens were too large and less spicy than their smaller leaf counterparts. This feedback made its way back to the Product and Ag Science teams.
"The challenge with mustard seeds is that they tend to grow very large leaves, and the larger the leaf, the lower the intensity of flavor," says Gauthier. "[After the feedback we received from our culinary testing,] we worked to optimize the growing conditions for Mustard Frills in order to strike the right balance between leaf size and high-impact flavor."
What's in a name?
Once the team optimized the recipe to address culinary feedback, the only hurdle left to clear was what to call it. Yes, it's a mustard green, so that would be a natural place to start. But this specific green's tender, frilly edges warranted some of the spotlights. Thus, "Mustard Frills" was born—a nod to the unique blend of spicy tasting notes and beautiful texture of our latest offering.
This January through early-April, the Mustard Frills are to be found in 42,5 grams (1.5oz) packages at independent New York City grocery stores. Due to the fiery, wasabi-like flavor of the greens, a little goes a long way, hence the smaller batch quantity. 

For more information:
Bowery Farming
contact@boweryfarming.com 
www.boweryfarming.com